TORTURE CHAMBER (2013)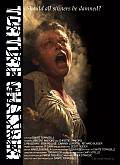 A shocking family portrait. A boy oozing blood and saliva, bound by ropes and handcuffs, imprisoned in an animal cage. A deeply religious mother who believes her son is controlled by the devil. A Catholic priest devoted to saving his family, who tries to cure his deranged younger brother – but 13-year-old Jimmy Morgan is possessed by an evil too powerful to be exorcised by any religion. After escaping from a mental institution, Jimmy is back with a vengeance – and an army of children who follow his every murderous desire. The town trembles in fear as the youths attack and abduct its residents – innocent and guilty alike – dragging their victims to an abandoned castle and subjecting them to grisly torments deep within its underground tunnels. Those who discover the terrible secret behind the disappearances and deaths don't live long enough to tell it. The teacher, the doctor, even Jimmy's own brother and mother, will all confront their fates in the Torture Chamber.
Original Title : TORTURE CHAMBER
Director(s) :
Dante Tomaselli
Writer(s) : Dante Tomaselli (screenplay)
Genre(s) : Horror
Year : 2013
Country : USA
Langage : English
Coulor : Color
Ratio : 235 : 1
US Release : 2013-10-10
Actors :
 
Vincent Pastore Dr Fiore
Christie Sanford Mrs Morgan
Lynn Lowry Lisa Marino
Ron Millkie Dr Thompson
Carmen LoPorto Jimmy Morgan
Richard D Busser Father Mark Morgan
Ellie Pettit Heather
Steven Lobman Andy
Raine Brown Hope
Danny Lopes Ralph
Bill Boorman Mr Morgan
Andrew George Jr Ken
Lily Suda Blonde Girl
Matthew Perfetuo Burnt Child
June Benson Burnt Child
Max Robkoff Burnt Child
Liza Petrosyan Burnt Child
Edward Gelbinovich Burnt Child
Bartolo Raffaele Detective
Lela Frechette Mrs Thompson
Allen Rosenberg Priest
Jennifer Agostini Policewoman
Al Sapienza Police Officer Ricci
No comments.
All informations are coming from http://www.imdb.com
This page has been seen 4387 times.