TRAILER PARK OF TERROR (2008)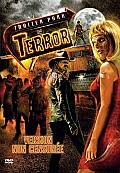 Six troubled high school students and their chaperon, an optimistic youth ministries Pastor, return from an outdoor character building retreat in the mountains. During a raging storm, their bus crashes, hopelessly stranding them in the middle of the Trucker's Triangle, a forgotten locus of consummate evil in the middle of nowhere. The hapless group seeks shelter for the night in a seemingly abandoned trailer park they find down the road. However, when the sun sets, it's not refuge they find. Instead, terror finds them in the form of Norma, a damned redneck reaper with a killer body who dispenses vengeance and death aided by her cursed companions, a bloodthirsty brood of Undead trailer trash..
Original Title : TRAILER PARK OF TERROR
Director(s) :
Steven Goldmann
Writer(s) :
Timothy Dolan
Year : 2008
Country : USA
Coulor : Color
Ratio : 1.85 : 1
Sound : Dolby Digital
Aka(s) :
Park prikolica strave - Serbia (imdb display title)
Terror park - Hungary (imdb display title)
Trailer Park of Terror - Greece (DVD title)
Actors :
Nichole Hiltz - Norma
Lew Temple - Marv
Jeanette Brox - Bridget
Myk Watford - Roach
Michelle Lee - Miss China
Ed Corbin - Sgt. Stank
Ricky Mabe - Michael
Cody McMains - Jason
Hayley Marie Norman - Amber
Ryan Carnes - Alex
Stefanie Black - Tiffany
Matthew Del Negro - Pastor Lewis
Trisha Rae Stahl - Larlene
Brock Cuchna - Aaron
Priscilla Barnes - Jean
Duane Whitaker - Sheriff Keys
Tracey Walter - Ancient Trucker
Dale Dickey - Daryl
Brandon Ellison - Mack
J.P. Manoux - Cigrit
Tom Lenk - Floyd
Trace Adkins - The Man
J. Brian Miles - Slim
Gabriel Bogner - Trailer Park Boy #1
Alexandra Goldmann - Trailer Park Girl #1
Arielle Hakian - Trailer Park Girl #2
Chris Symonds - Trailer Park Twin #1
Michael Symonds - Trailer Park Twin #2
Madonna Cacciatore - Trucker
Corryn Cummins - Pregnant Teenager
Lindsay Johnston - Nuclear Daughter
Barry Ratcliffe - Nuclear Dad (as Barry J. Ratcliffe)
Corby Sullivan - Mullet Metal Head

No comments.
All informations are coming from http://www.imdb.com
This page has been seen 3472 times.