TRANSFORMERS (2007)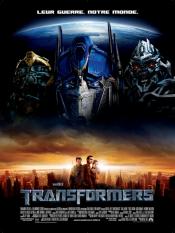 For centuries, two races of robotic aliens–the Autobots and the Decepticons–have waged a war, with the fate of the universe at stake. When the battle comes to Earth, all that stands between the evil Decepticons and ultimate power is a clue held by young Sam Witwicky.
An average teenager, Sam is consumed with everyday worries about school, friends, cars and girls. Unaware that he alone is mankind's last chance for survival, Sam and his friend Mikaela (Megan Fox) find themselves in a tug of war between the Autobots and Decepticons. With the world hanging in the balance, Sam comes to realize the true meaning behind the Witwicky family motto–"No sacrifice, no victory!"
Original Title : TRANSFORMERS
Director(s) :
Michael Bay
Writer(s) : Roberto Orci, Alex Kurtzman, 3credits
Year : 2007
Country : USA
Langage : English | Spanish
Coulor : Color
Ratio : 2.35 : 1
Sound : SDDS| Dolby Digital| DTS
French Released : 2007-07-25
Aka(s) :
Transformers - Argentina / Brazil / France (dubbed version) / Germany / Greece / Mexico (imdb display title) / Peru / Portugal (imdb display title) / Turkey (Turkish title) / Venezuela
Трансформеры - Russia
Трансформърс - Bulgaria (Bulgarian title)
Prime Directive - USA (fake working title)
The Transformers - USA (working title)
Toransufômâ - Japan
Transformeri - Croatia (imdb display title)
Transformerid - Estonia
Transformers - Le film - Canada (French title)
Transformers: The IMAX Experience - USA (IMAX version)
Transformers: The Movie 2 - USA (working title)
Transformersi - Serbia (imdb display title)
Actors :
Shia LaBeouf - Sam Witwicky
Megan Fox - Mikaela Banes
Josh Duhamel - Captain William Lennox
Tyrese Gibson - USAF Tech Sergeant Epps
Rachael Taylor - Maggie Madsen
Anthony Anderson - Glen Whitmann
Jon Voight - Defense Secretary John Keller
John Turturro - Agent Simmons
Michael O'Neill - Tom Banacheck
Kevin Dunn - Ron Witwicky
Julie White - Judy Witwicky
Amaury Nolasco - ACWO Jorge "Fig" Figueroa
Zack Ward - First Sergeant Donnelly
Luis Echagarruga - Ranger Team
Travis Van Winkle - Trent DeMarco
Patrick Mulderrig - Ranger Team
Brian Shehan - Ranger Team
Michael Trisler - Ranger Team
Ashkan Kashanchi - Mahfouz
Rizwan Manji - Akram
William Morgan Sheppard - Captain Witwicky (as W. Morgan Sheppard)
C.J. Thomason - Sailor
Bernie Mac - Bobby Bolivia
Carlos Moreno Jr. - Manny
Johnny Sanchez - Clown
John Robinson - Miles
Peter Jacobson - Mr. Hosney
Glenn Morshower - Colonel Sharp (as Glen Morshower)
Frederic Doss - SOCCENT Op-Centre Tech (as Lt. Frederic Doss)
Charlie Bodin - SOCCENT Op-Centre Tech
Joshua Feinman - USAF Staff Sergeant (as Josh Feinman)
Chris Ellis - Admiral Brigham
Steven Ford - Four Star General
Michael Shamus Wiles - Two Star General
Craig Barnett - Air Force Major General
Brian Prescott - Keller Aide
Scott Peat - Pentagon Watch Commander
Colleen Porch - Enlisted Aide
Brian Stepanek - Sector Seven Agent
James C. Burns - Secret Service Agent
Jamie McBride - FBI Agent
Wiley M. Pickett - FBI Agent (as Wiley Pickett)
Andy Milder - R&D Team Leader
Brian Reece - Moustache Man
Samantha Smith - Sarah Lennox
Ravi Patel - Telephone Operator
Rick Gomez - Sheriff
Andy Domingues - Deputy
Mike Fisher - Football Coach
Colin Fickes - Analyst
Tom Lenk - Analyst
Jamison Yang - Analyst
Esther Scott - Glen's Grandmother
Madison Mason - CNN Reporter
Jeremy Jojola - News Reporter
Jessica Kartalija - News Reporter
Andrew Altonji - Cafe Kid
Andrew Caldwell - Cafe Kid
J.P. Manoux - Witness
Pete Gardner - Dad
Sophie Bobal - Little Girl
Laurel Garner - Mom in Car
Chip Hormess - Boy in Car
Ray Toth - Pilot
Michael Adams - AWACS Controller
Ron Henry - AWACS Controller
Michael McNabb - AWACS Controller
Jason White - AWACS Controller (as Jason T. White)
Adam Ratajczak - Control Tower Tech
Maja Kljun - Socialite (as Maya Klayn)
Michelle Pierce - Socialite
Odette Annable - Socialite (as Odette Yustman)
Bob Stephenson - Xbox Guy
Mason Rock Bay - Himself (as Mason the Mastiff)
Peter Cullen - Optimus Prime (voice)
Mark Ryan - Bumblebee (voice)
Darius McCrary - Jazz (voice)
Robert Foxworth - Ratchet (voice)
Jess Harnell - Ironhide / Barricade (voice)
Hugo Weaving - Megatron (voice)
Jimmie Wood - Bonecrusher (voice) (as Jim Wood)
Reno Wilson - Frenzy (voice)
Charles Adler - Starscream (voice) (as Charlie Adler)
Mike Allen - Man on Corner (uncredited)
Mark Bedell - Strike Team Soldier (uncredited)
James Blackburn - Pedrestrian (uncredited)
Paul Michael Bloodgood - Arctic Explorer (uncredited)
Matt Cannon - Reporter (uncredited)
Kevin Carvell - USAF Captain (uncredited)
Cade Courtley - Sector 7 Commando (uncredited)
Mary Decaro - Various (uncredited)
Tom Everett - National Deputy Directory of Operations (uncredited)
Michael J. Fisher - Football Coach (uncredited)
Sean Hampton - USMC Private (uncredited)
Colton Haynes - Cafe Kid (uncredited)
Nicole Randall Johnson - ASI Security Woman (uncredited)
Aaron Michael Lacey - SWAT Cop (uncredited)
Joel Lambert - Sector 7 Commando (uncredited)
Shawn Lecrone - Soldier (uncredited)
Omar Benson Miller - Glen's Cousin (uncredited)
Seth Miller - SWAT Team Member (uncredited)
Ron Mitchell - Car Lot Security Guard (uncredited)
Stuart G Murphy - SWAT Team (uncredited)
Matt Noble - Bald Ranger Team Member (uncredited)
James R. Petix - Extra (uncredited)
Geoffrey M. Reeves - Secret Service Agent (uncredited)
Kyle Saylors - NY Pedestrian (uncredited)
Tavia Schwartz - Pedestrian (uncredited)
Sean Smith - Scientist (uncredited)
Ronnie Sperling - Lead Scientist (uncredited)
Arne Starr - Mission City Runner (uncredited)
James D. Weston II - Pentagon Ops Officer (uncredited)

No comments.
All informations are coming from http://www.imdb.com
This page has been seen 5695 times.