VAMPIRES (2010)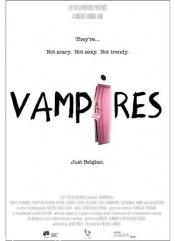 A family of vampires, bored with immortality, lives in Belgium, eats illegal immigrants, children, handicapped folk, and takes every advantage they can suck out of the country's social system. It turns out vampires must keep to a strict code. They are, for example, prohibited from sleeping with their leader's wife. That's where Samson went too far... Now he and his whole family are exiled to Quebec, where even vampires have to work for a living!
Original Title : VAMPIRES
Director(s) :
Vincent Lannoo
Writer(s) : Frédérique Broos (written by), Vincent Lannoo (written by)
Genre(s) : Comedy | Fantasy | Horror
Year : 2010
Country : Belgium
Langage : French
Coulor : Color
Ratio : 185 : 1
French Release : 2010-09-01
US Release : 2011-07-06
Aka(s) :
Germany (DVD title) - Vampire - Verstecken war gestern!
Actors :
 
Carlo Ferrante Georges
Vera Van Dooren Bertha
Pierre Lognay Samson
Fleur Lise Heuet Grace
Julien Doré Jean-Paul
Selma Alaoui Elisabeth
Paul Ahmarani Adelard
Thomas Coumans
Alexandra Kamp-Groeneveld Eva
Batiste Sornin Bienvenu
No comments.
All informations are coming from http://www.imdb.com
This page has been seen 2318 times.