VIGILANTE (1983)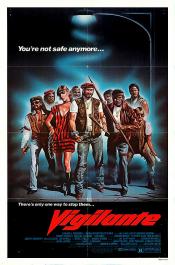 Eddie Marino is a factory worker in New York City. He has a wife named Vickie and a son named Scott. Eddie's friend and co-worker Nick and some of the factory's other workers have formed a vigilante group because Nick and the group are fed up with the pimps, gangs, and drug dealers who keep taking over the neighborhoods. Nick and his group are also sick and tired of the police, because the police always fail to protect people who become victims. Eddie goes home from work one night, only to discover that Vickie has been stabbed, and Scott has been shot dead. Frederico "Rico" Melendez, the leader of a Puerto Rican street gang, is arrested for Vickie's stabbing and Scott's murder. Assistant District Attorney Mary Fletcher plans to put Rico away for as long as possible, since New York doesn't have the death penalty. Nick tries to convince Eddie to join the vigilante group, but Eddie turns Nick down, preferring to let the courts handle Rico. Nick makes it clear that he has no faith whatsoever in the police and the judicial system. The case against Rico doesn't make it past the arraignment. Corrupt judge Sinclair sets Rico free with a two year suspended sentence. Eddie goes crazy and tries to strangle judge Sinclair, who sentences Eddie to spend 30 days in jail for that. It was Rico's right hand man, Prago, who had fired the shot that killed Scott while Rico stabbed Vickie. Prago also paid judge Sinclair to set Rico free. In jail, Eddie befriends an inmate named Rake. As soon as Eddie is released from jail, he changes his mind about Nick's vigilante group. Eddie joins the group so he can go after Rico, Prago and judge Sinclair.
Original Title : VIGILANTE
Director(s) :
William Lustig
Writer(s) :
Richard Vetere
Year : 1983
Country : USA
Langage : English
Coulor : Color
Ratio : 2.35 : 1
Sound : Dolby
French Released : 1983-01-12
US Released : 1983-09-16
Aka(s) :
Vigilante - France / Portugal (imdb display title) / Spain (imdb display title)
Ekdikites ektos nomou - Greece (video title)
Oi mahites tou nomou - Greece (transliterated ISO-LATIN-1 title)
Os Vigilantes - Brazil
Street Fighters - Belgium (video title) (English title)
Street Gang - (undefined)
Streetfighters - West Germany
Vigilante - yön soturit - Finland (video title)
Yön soturit - Finland
Actors :
Robert Forster - Eddie Marino
Fred Williamson - Nick
Richard Bright - Burke
Rutanya Alda - Vickie Marino
Don Blakely - Prago
Joseph Carberry - Ramon
Willie Colón - Rico (as Willie Colon)
Joe Spinell - Eisenberg
Carol Lynley - Assistant D.A. Mary Fletcher
Woody Strode - Rake
Vincent Beck - Judge Sinclair
Bo Rucker - Horace
Frank Pesce - Blueboy
Steve James - Ptl. Gibbons (as Steve W. James)
Randy Jurgensen - Det. Russo
Henry Judd Baker - Quinn
Dante Joseph - Scott Marino
Vincent Russo - Rubin
Donna Patti - Rape Victim
Peter Savage - Thomas 'Mr. T.' Stokes
Mike Miller - Dr. Fallon
Hyla Marrow - Rosie
Frank Gio - Ptl. Shore
Raymond Serra - Court Officer (as Ray Serra)
Sal Carollo - Mr. Nulty
Sandy Alexander - Prisoner
Geri Martin - Nurse #1
Susan Phelps - Nurse #2
Gregg Stevens - Boy in Wheelchair
Burt Pittari - Felix
Kim Delgado - Leon
James L. Brewster - Bobby (as James Brewster)
John Caparosa - Police Officer
Alex Stevens - Alex
Ralph Monaco - Jake
Sandy Dell - Hooker #1
Ramona Brooks - Hooker #2
Enid Britton - Hooker #3
Nick Barbaro - Prison Guard
Harry Madsen - Bodyguard
Michael Irene - Angry Young Man
Mark Bruno - Truck Driver #1
Christopher Ferris - Truck Driver #2
Jerry Preiser - Squad Commander
Daniel Dod - Policeman #1 (as Dan Dod)
Joseph Winogradoff - Policeman #2
Gino Lucci - Limo Driver
William Lustig - 1st Man Exiting Courtroom Elevator (uncredited)
Ron McLarty - Doctor (uncredited)
Vic Noto - Killer Joe (uncredited)
Filomena Spagnuolo - Old Lady Sitting Next to Eddie Outside Courtroom (uncredited)

No comments.
All informations are coming from http://www.imdb.com
This page has been seen 1784 times.