Filmography from : Wai Keung Lau
Director :
Mou gaan dou II
,
Wai-Keung Lau
(as Andrew Lau),
Alan Mak
, 2003
In the prequel of Infernal Affairs. Chan Wing Yan has been expelled from police academy in cause of his relatives to the triad. Now SP Wong give him a chance to undercover the triad family controlled by his half brother Hau. Besides of Ming. He has been ordered to killed Hau father and infiltrated the police department. The story get complicated when Wong's related to Hau father's dead. The avenge is begin when Mary. Sam's wife is the hit order....
Mou gaan dou III: Jung gik mou gaan
,
Wai-Keung Lau
(as Andrew Lau),
Alan Mak
, 2003
In 1991. Yeung Kam Wing (Leon Lai) and Chan Wing Yan (Tony Leung) are both police school trainers. Chan was better than Yeung but because of violation of the rules, Chan was being expelled and Yeung graduated with the first in class. Yeung was employed and work in a different department from Lau's (Andy Lau). 12 years later, Yeung met his Chinese inspector buddy, Shen Chen (chen Dao Ming), both of them work under Police, sent to Sam (Tsang Chi...
Mou gaan dou
,
Wai-Keung Lau
(as Andrew Lau),
Alan Mak
, 2002
Shawn Yue plays a young police officer who has been sent undercover as a mole in the local mafia. Edison Chen plays a young mafia member who is infiltrating the police force. Years later, their older counterparts, Tony Leung and Andy Lau respectively, race against time to expose the mole within their midsts and destroy him. Written by Aya The setting is the never-ending war between the police and the Triads of Hong Kong. Chan is a cop who's...
Fung wan: Hung ba tin ha
,
Wai-Keung Lau
(as Andrew Lau), 1998
...
Actor :
Tor dei gui mou yan 
,
Nick Cheung
, 2015
Nick Cheung plays a streetwise exorcist who becomes an overnight sensation when his extraordinary exorcisms are recorded and go viral on the internet. However, this attracts not only the ... ...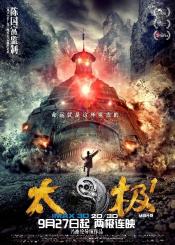 Tai ji 1: Cong 0 kai shi
,
Stephen Fung
, 2012
Yang travels to Chen Village to learn a powerful form of Tai Chi. Though villagers are forbidden from teaching outsiders, Yang becomes their best hope for survival when a man arrives with a plan to build a railroad through the village....