Filmography from : Willard E Pugh
Actor :
Progeny
,
Brian Yuzna
, 1998
An unsuspecting woman is impregnated by aliens who are experimenting on the human population. ...
Puppet Master 5
,
Jeff Burr
, 1994
The puppets battle their most powerful enemy yet as they protect the new puppet master from the demon God that created the Secret of Life....
RoboCop 2
,
Irvin Kershner
, 1990
After a successful deployment of the Robocop Law Enforcement unit, OCP sees its goal of urban pacification closer and closer. But as this develops, a new narcotic known as "Nuke" invades the streets, leaded by God-delirious leader Kane. As this whole menace grows, it may even prove to be too much for Murphy to handle. OCP tries to replicate the success of the first unit, but ends up in failed prototypes with suicidal issues... until Dr. Faxx,...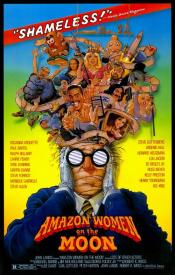 Amazon Women on the Moon
,
Joe Dante
(segments 'The French Ventiloquist's Dummy' [TV cut & DVD only], 'Hairlooming', 'Bullshit or Not', 'Critic's Corner', 'Roast Your Loved One', 'Reckless Youth'),
Carl Gottlieb
(segments 'Peter Pan Theater' [TV cut & DVD only], 'Pethouse Video', 'Son of the Invisible Man', 'Art Sale'),
Peter Horton
(segment 'The Unknown Soldier' [TV cut & DVD only]'Two ID's'),
John Landis
(segments 'Mondo Condo', 'Hospital', 'Blacks Without Soul', 'Don 'No Soul' Simmons', 'Video Date'),
Robert K Weiss
(segments 'Murray in Videoland', 'Amazon Women on the Moon', 'Silly Paté', 'Video Pirates', 'First Lady of the Evening', 'Titan Man'), 1987
A series of short sketches, most of which parody late-night television and the low-budget movies one often finds there. Other skits include a man being attacked by his apartment, a funeral hosted by classic comedians, and a teen-age boy's big night turning into a nightmare....
The Hills Have Eyes Part II
,
Wes Craven
, 1984
A group of bikers, which includes some of the survivors from the original film, embark on a journey by bus to a biker race near the desert of the infamous incidents. However, because of a mistake they are late and decide to take a shortcut through the desert. Halfway through the desert the bus breaks down. While trying to repair the bus, some of the group wander off, and wind up in the traps of the survivors of the mutant family of the first....