Filmography from : Yurei Yanagi
Actor :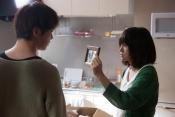 Kuroyuri danchi
,
Hideo Nakata
, 2013
Nursing student Asuka (Atsuko Maeda) has just moved into an apartment complex with her parents and younger brother. On the first night in her new room, she is awoken by a strange scratching sound coming from the apartment of her neighbor, a reclusive old man who has refused all attempts at communication. Concerned over his well being, Asuka enters his home only to find him dead from malnutrition. Worse, it looks as if he had been trying to...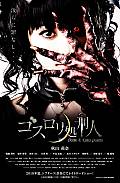 Gosurori shokeinin
,
Gô Ohara
, 2010
In order to reveal the truth behind the seemingly senseless murder, Yuki transforms herself into a demon of vengeance by donning gothic lolita clothing, wielding a parasol as a deadly weapon, and executing the guilty in the name of God....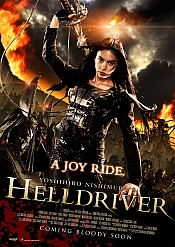 Nihon bundan: Heru doraibâ
,
Yoshihiro Nishimura
, 2010
WELCOME TO ZOMBIE WORLD! An alien-spawned, mysterious mist blankets the northern half of Japan, transforming those who inhale it into ravenous, flesh-eating zombies hell-bent on devouring the surviving human population. Plunged into chaos, Japan is torn in two--the southern half of the country, where the populace remains untouched by the deadly gas, lives behind a heavily-fortified wall, while the northern half is a lawless, zombie-infected...
L: Change the World
,
Hideo Nakata
, 2008
...
Kuchisake-onna
,
Kôji Shiraishi
, 2007
...
Kaidan
,
Hideo Nakata
, 2007
...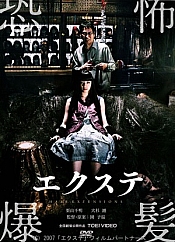 Ekusute
,
Sion Sono
,
Joe DiGiorgi
(english voice director),
Tony Salerno
(english voice director), 2007
What if extensions carried the grudge of the individual to which the hair originally belonged and started attacking people wearing it at random? Customs agents discover a huge amount of human hair used as materials for 'hair extensions' along with the dead body of a young girl with a shaved head. With the corpse being soon transported by the police, the results of the autopsy determine that the woman's internal organs have been harvested. The...
Ju-rei: Gekijô-ban - Kuro-ju-rei
,
Kôji Shiraishi
, 2004
Japanese school girls die violently after seeing a man wearing a black hood....
Ju-on
,
Takashi Shimizu
, 2000
...
Ju-on 2
,
Takashi Shimizu
, 2000
...

Ringu 2
,
Hideo Nakata
, 1999
...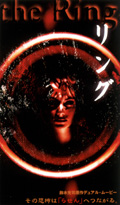 Ringu
,
Hideo Nakata
, 1998
...
Hana-bi
,
Takeshi Kitano
, 1997
Nishi is a cop whose wife is slowly dying of Leukemia. One of his partners gets shot on the job and is confined to a wheel chair for the rest of his life and becomes suicidal. Nishi, feeling guilt over his partners accident, tries to help him in any way he can. At the same time, Nishi leaves the police force to spend more time with his dying wife. However, in order to do the right things for those he loves, Nishi must do wrong things. Spiraling...
Joyû-rei
,
Hideo Nakata
, 1996
...