Filmography from : Yutaka Nakamura
Actor :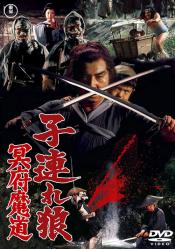 Baby Cart: Le territoire des démons
,
Kenji Misumi
, 1973
Fifth film in the Lone Wolf & Cub Series. 5 warriors challenge Ogami to duels. Each has 1/5th of Ogami's assassin fee and 1/5 of the information he needs to complete his assassination. His mission is to kill a mad Daimyo before he destroys his clan!...
Baby Cart: le sabre de la vengeance
,
Kenji Misumi
, 1972
In this first film of the Lone Wolf and Cub series, adapted from the manga by Kazuo Koike, we are told the story of the Lone Wolf and Cub's origin. Ogami Itto, the official Shogunate executioner, has been framed for disloyalty to the Shogunate by the Yagyu clan, against whom he now is waging a one-man war, along with his infant son, Daigoro....