Filmography from : Ze Li
Actor :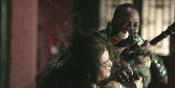 The Man with the Iron Fists
,
RZA
, 2012
In feudal China, a blacksmith who makes weapons for a small village is put in the position where he must defend himself and his fellow villagers....
Picco
,
Philip Koch
, 2010
Kevin is new in youth prison. Due to over-occupancy he has to share a cell with Tommy, Andy and Marc. A partnership of convenience in a system where only the strong prevail and which is dominated by violence and latent aggression. Oppression and beatings are a daily occurence. It is hard for Kevin to establish himself. Especially Marc and Andy are after him. He's afraid of not sticking it out. Only Tommy gives him an amicable advice: In this...
Su Qi-er
,
Woo-Ping Yuen
, 2010
Su Qi-Er retired from his life as a renowned Qing dynasty general in order to pursue his dream of a family and his own martial arts school. However, Su's peaceful life is shattered when his vengeful adopted brother, Yuan Lie, kidnaps his son and leaves Su for dead. Saved from his demise by his wife Ying and the reclusive doctor Yu, Su resolves to perfect his technique so that he may defeat Yuan Lie and reunite his family. Aided by the mystical...