ZOMBIES FROM OUTER SPACE (2012)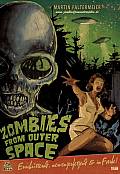 Bavaria in the late Fifties. The life of Maria, a young girl, is changed abruptly when she finds the body of a woman. The scientist Dr. Robert Hölzlein and the American lieutenant John Welles, stationed in Bavaria, were commissioned to solve the obvious murder case. But trouble seems preassigned as both are interested in beautiful Maria.
From now on horrible finds of dead women increase in the neighbourhood as well as mysterious sightings of unidentified flying objects. Fear and mistrust distribute among the inhabitants.
While inspecting a crop circle, the lieutenant finds a dead alien; the scientist comes to a terrible conclusion during an autopsy. Too late he discovers the connection between the found corpses and the unexplainable ufo visitations. Before he can alert the population, the undead aliens raise their tombs underneath the crop circles to destroy humanity.
Will the two rivals, Robert and John, realize in time that only together do they have a chance?!?
Original Title : ZOMBIES FROM OUTER SPACE
Director(s) :
Martin Faltermeier
Writer(s) :
Martin Faltermeier
Year : 2012
Country : Germany
Langage : German | English
Coulor : Color
Ratio : 16:9 HD
Sound : Stereo
Actors :
Judith Gorgass - Maria
Florian Kiml - Robert
Siegfried Foster - Captain John Welles (as Siegfried Fleischmann)
Vlasto Peyitch - Prof. Stock
Klaus Tissler - General Cooper
David Scharschmidt - Jimmy Anderson
Kami Esfahani - Sergeant Williams
Fabienne Dussaussois - Franziska
Michael Preiss - Bauer
Kristin Anaid - Petra
Manuela Bauer - Theresa
Günther Brenner - Stadler
Karin Buchholz - Frau Hofmeier
Guido Böhm - Private Ben Ochmoinek
Edward Froschauer - Pfarrer Weilmann
Juliane Kammerl - Mädchen

No comments.
All informations are coming from http://www.imdb.com
This page has been seen 887 times.