Filmography from : Avon Maser
Actor :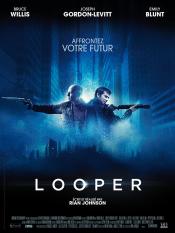 Looper
,
Rian Johnson
, 2012
In 2074, when the mob wants to get rid of someone, the target is sent 30 years into the past, where a hired gun awaits. Someone like Joe, who one day learns the mob wants to 'close the loop' by transporting back Joe's future self. ...
Destination finale 4
,
David R Ellis
, 2009
On what should have been a fun-filled day at the races, Nick O'Bannon has a horrific premonition in which a bizarre sequence of events causes multiple race cars to crash, sending flaming debris into the stands, brutally killing his friends and causing the upper deck of the stands to collapse on him. When he comes out of this grisly nightmare, Nick panics, persuading his girlfriend, Lori, and their friends, Janet and Hunt, to leave… escaping...