Filmography from : Mark Sevi
Writer :
Arachnid
,
Jack Sholder
, 2001
...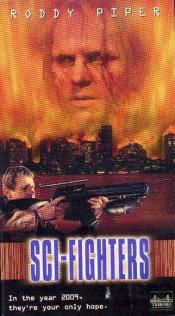 Sci-fighters
,
Peter Svatek
, 1996
In the city of Boston, in the year 2009. Detective Cameron Grayson is on the trail of Adrian Dunn, along his ex-partner and his wife's murderer. Dunn has escaped from prison whose body has been taken over by an alien parasite, on the moon and returned to Earth with a deadly alien virus. ...
Scanner Cop II
,
Steve Barnett
, 1995
...
Ghoulies IV
,
Jim Wynorski
, 1994
While in pursuit of cop Johnathan Graves, his demonic nemesis, Faust, sends his disciple Alexandria to hunt down the amulet that will set him free. Meanwhile, the Ghoulies find their way through an open porthole and onto the streets of L.A., creating madness and mayhem as they search for a way to get back home. As the body count rises, it becomes an ultimate battle between a demonic killer, a rule-breaking cop, and our favorite creatures from...