Filmography from : Pascal Greggory
Actor :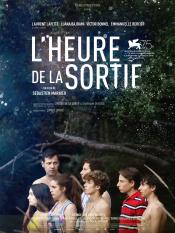 L'heure de la sortie
,
Sébastien Marnier
, 2018
When Pierre Hoffman integrates the prestigious College St Joseph, it finds among 3th 1 of strange behavior, a hostility diffuse, a deaf violence. Is it because their professor of French has just to throw by the window in full-course? Because they are a class pilot of gifted children and therefore harassed by other students? Because they have lost all hope in the future of the world?...

Les emmurés
,
Gilles Paquet-Brenner
, 2009
Sam is young, smart and beautiful, but she's no ordinary woman, she's a demolition expert, usually considered as a man's job. This job should have been very easy: conduct a structural analysis on a building located in the remote Scottish swamps, a necessary step before demolition. The building was supposed to be empty upon her arriving. But strangely there are still a few lingering tenants, amongst them the caretaker and her 15 year old boy. The...
Nid de guêpes
,
Florent-Emilio Siri
, 2002
...