Filmography from : Seth Holt
Director :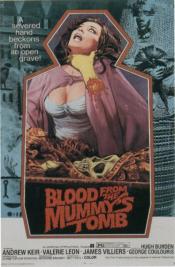 Blood from the Mummy's Tomb
,
Seth Holt
,
Michael Carreras
(uncredited), 1971
On the night before her anniversary, Margaret Fuchs (Valerie Leon) receives an ancient Egyptian ring with a red stone as a birthday gift from her father, Prof. Julian Fuchs (Andrew Keir). Margaret has frequent nightmares about an expedition in Egypt with five members, including her father, finding the tomb of Queen Tera, an evil sorcerer with a severed hand. The members collect the sarcophagus with a totally preserved mummy, the severed hand...
Danger Route
,
Seth Holt
, 1967
Jonas Wilde, a British secret service agent licensed to kill, returns from a successful mission determined to resign. Canning, his London superior, agrees to forward his resignation if Wilde eliminates a Czechoslovakian scientist defector now being held by the Americans. With the help of a housekeeper, Rhoda Gooderich, Wilde kills the scientist but is himself captured and interrogated by CIA agent Lucinda. After Lucinda tells Wilde that someone...
The Nanny
,
Seth Holt
, 1965
Bette Davis is an English nanny whose charge is 10-year-old Joey, just released from a home for disturbed children where he'd spent two years undergoing treatment for drowning his little sister in the bath. Shortly after his arrival home, suspicion arouses again when his mother is poisoned. But Joey continues to insist Nanny is responsible, just as she was with the death of his little sister, with only a neighboring friend believing the young...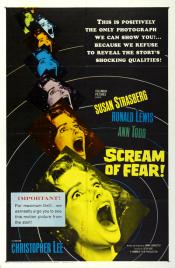 Taste of Fear
,
Seth Holt
, 1961
After narrowly surviving an accident in which she nearly drowned, the wheelchair bound Penny Appleby returns home to live with her widowed step-mother Jane on the French Riviera. She begins to question her sanity after several times seeing her father's corpse around the house and its grounds, and enlists the help of the friendly chauffeur Bob while attending Doctor Gerrard acts in a suitably sinister manner. No one is who they seem in this tale...