Filmography from : Stephen Mendel
Actor :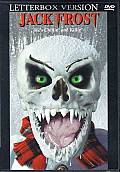 Jack Frost
,
Michael Cooney
, 1997
He's got ice in his veins and he's giving cold-blooded a whole new meaning? his name is Jack Frost. After five years of terror and 38 bodies in five states, serial killer Jack is on his way to execution. But a freak accident with a truckload of genetic material in the middle of a snowstorm mutates Jack into a killer snowman. Now only an army can stop the slayride of terror from this frosty monster with icicle fangs. Hell has just frozen...
Scanner Cop II
,
Steve Barnett
, 1995
...
Stepfather III
,
Guy Magar
, 1992
That psycho stepfather has escaped from the insane asylum and had his face surgically altered. Now he's married again, this time to a woman with a child in a wheelchair. He goes on a killing spree once again....