Filmography from : Terence Fisher
Director :
Frankenstein et le monstre de l'enfer
,
Terence Fisher
, 1974
Last of the Hammer Frankenstein films, this one deals with the Baron hiding out in an insane asylum, so that he may continue his experiments with reanimating the dead, along with inmate Dr. Helder, who has been institutionalized for conducting such experiments. ...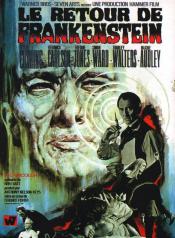 Le Retour de Frankenstein
,
Terence Fisher
, 1969
...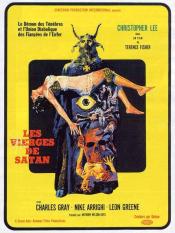 Les Vierges de Satan
,
Terence Fisher
, 1968
In the countryside of England, the Duc de Richleau a.k.a Nicholas welcomes his old friend Rex Van Ryn that has flown to meet him and Simon Aron, who is the son of an old friend of them that had passed away but charged them the task of watching the youngster. Nicholas and Rex unexpectedly visit Simon that is receiving twelve mysterious friends. Sooner Nicholas, who is proficient in black magic, learns that the guests are member of a satanic cult...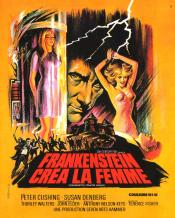 Frankenstein créa la femme
,
Terence Fisher
, 1967
Baron Frankenstein has acquired the dead body of a young maiden, Christina, and all it lacks is the spark of life. He captures the soul of a recently executed young man and installs it in the young woman. With the memories from the young man still intact, she starts to kill the people whose false accusations led to the young man's execution. ...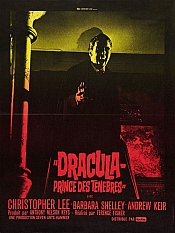 Dracula - Prince des ténèbres
,
Terence Fisher
, 1966
Dracula is resurrected, preying on four unsuspecting visitors to his castle. ...
L'Île de la terreur
,
Terence Fisher
, 1966
...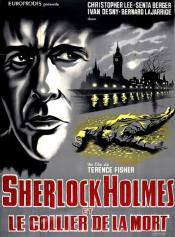 Sherlock Holmes et le Collier de la mort
,
Terence Fisher
, 1962
Sherlock Holmes and Watson do battle with their nemesis, Professor Moriarity, over an ancient necklace attributed to Cleopatra....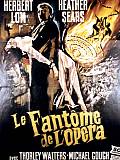 Le fantôme de l'opéra
,
Terence Fisher
, 1962
The corrupt Lord Ambrose D'Arcy (Michael Gough) steals the life's work of the poor musical Professor Petry. (Herbert Lom). In an attempt to stop the printing of music with D'Arcy's name on it, Petry breaks into the printing office and accidentally starts a fire, leaving him severely disfigured. Years later, Petry returns to terrorize a London opera house that is about to perform one of his stolen operas....

La Nuit du loup-garou
,
Terence Fisher
, 1961
...
Les Deux Visages du Dr Jekyll
,
Terence Fisher
, 1960
Dr. Henry Jekyll experiments with scientific means of revealing the hidden, dark side of man and releases a murderer from within himself....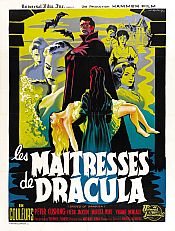 Les Maîtresses de Dracula
,
Terence Fisher
, 1960
A young teacher on her way to a position in Transylvania helps a young man escape the shackles his mother has put on him. In so doing she innocently unleashes the horrors of the undead once again on the populace, including those at her school for ladies. Luckily for some, Dr Van Helsing is already on his way....
L'homme qui faisait des miracles
,
Terence Fisher
, 1959
...
La Malédiction des pharaons
,
Terence Fisher
, 1959
...
Le chien des Baskerville
,
Terence Fisher
, 1959
Returning to his family's manor house on the lonely moors after his father dies under mysterious circumstances, Sir Henry Baskerville is confronted with the mystery of the supernatural hound that supposedly takes revenge upon the Baskerville family. The famous detective Sherlock Holmes and his assistant Dr. Watson are brought in to investigate....
Les Étrangleurs de Bombay
,
Terence Fisher
, 1959
...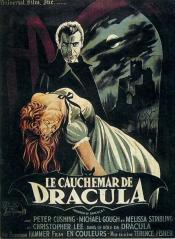 Le Cauchemar de Dracula
,
Terence Fisher
, 1958
Jonathan Harker takes employment with Count Dracula, ostensibly to catalog his vast library. In fact, he is on a mission to kill the Count, a vampire. Before he can do so however, the Count gains the upper hand and Harker soon finds himself as one of the walking dead. Dracula has taken an interest in Harker's fiancée, Lucy Holmwood and it is left to Harker's colleague, Dr. Van Helsing to protect her. He has difficulty convincing Lucy's brother,...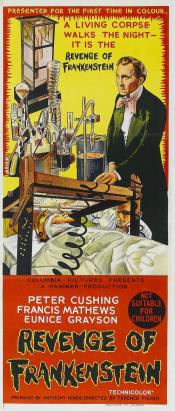 La Revanche de Frankenstein
,
Terence Fisher
, 1958
...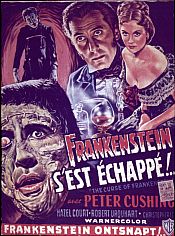 Frankenstein s'est échappé
,
Terence Fisher
, 1957
Victor Frankenstein builds a creature and brings it to life. But his creature behaves not as he intended. ...