Filmography from : Bill Jones
Director :
A Liar's Autobiography: The Untrue Story of Monty Python's Graham Chapman
,
Bill Jones
,
Jeff Simpson
,
Ben Timlett
, 2012
An animated, factually incorrect biography of Graham Arthur Chapman, one of the founding members of the comedy group Monty Python....
Actor :
Chemical Wedding
,
Julian Doyle
, 2008
Aleister Crowley (1875-1947) was the most notorious occultist who ever lived. A man whose appetites for corruption, sadism, sexual excess and moral degradation knew no bounds. His sphere of influence extended far beyond England to the world at large, and some believed to the very depths of hell itself. When Crowley died, the world breathed a collective sigh of relief. But for those versed in the black arts, death is only the beginning… ...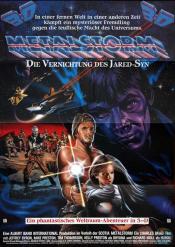 Metalstorm: The Destruction of Jared-Syn
,
Charles Band
, 1983
A seeker named Dogen rescues Dhyana after her father is murdered by the evil Jared-Syn. To avenge her father's death, Dogen must find Jared-Syn's hideout in the mysterious "Lost City", but the only person who knows where it is an aging, burned-out seeker named Rhodes. Along the way, they will need to do battle against the hunter Baal and his Cyclopean minions for engaging Jared-Syn in a final encounter....