Filmography from : Bonnie Rose
Actor :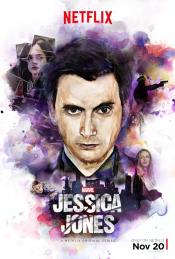 Jessica Jones 
,
Uta Briesewitz
(2 episodes, 2015-2018),
Simon Cellan Jones
(2 episodes, 2015),
SJ Clarkson
(2 episodes, 2015),
David Petrarca
(2 episodes, 2015),
Stephen Surjik
(2 episodes, 2015),
John Dahl
(1 episode, 2015),
Billy Gierhart
(1 episode, 2015),
Rosemary Rodriguez
(1 episode, 2015),
Michael Rymer
(1 episode, 2015),
Deborah Chow
(1 episode, 2018),
Neasa Hardiman
(1 episode, 2018), 2015
Ever since her short-lived stint as a superhero ended in tragedy, Jessica Jones has been rebuilding her personal life and career as a hot-tempered, sardonic private detective in Hell's Kitchen, New York City. Plagued by self-loathing and a wicked case of PTSD, Jessica battles demons from within and without, using her extraordinary abilities as an unlikely champion for those in need... especially if they're willing to cut her a check....
The Devil's Advocate
,
Taylor Hackford
, 1997
evil's Advocate thematically raises the preposition that 'is winning everything' in the legal profession.Does a lawyer commits the basic sin of Vanity if he believes his job is to win, as Kevin does. Further the movie in John Milton's trenchant speech questions the very notion of righteousness in the post-modern world. Milton's speech rips apart the whole discourse of religion when he presents the inherent contradiction of it. Kevin's dilemma...