Filmography from : Breanne Teboekhorst
Actor :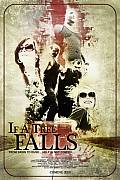 If a Tree Falls
,
Gabriel Carrer
, 2010
In Canada, about eight percent of all homicide incidents are murder-suicides. Ninety percent of murder-suicides were family-related. Brad, Will, Nessa and Lisa are four lifelong family friends in their twenties who set out to cross Eastern Canada for a family reunion through the scenic countryside on a blistering hot summer day. The trouble begins when they find an appealing place to stop for the night. The group thinks they have found the...
Desperate Souls
,
Chad Archibald
,
Gabriel Carrer
, 2005
...
Sick
,
Ryan M Andrews
, 0
Two years after the infection began, billions have died, governments have collapsed, and the human race is on the brink of extinction. Dr. Leigh Rozetta is a young, maverick scientist who's been living in a secret underground government facility since the outbreak began. After constant failed attempts to find a cure, Leigh sneaks away to return to her parent's house. On her way she crosses paths with Seph and Mckay, two militant...