MACHETE KILLS
CASTING
Lady Gaga Joins the MACHETE sequel - Character Poster Revealed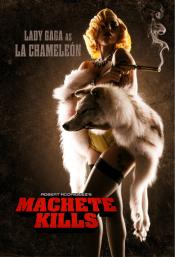 Following
"MACHETE KILLS"
photos of
Alexa Vega
's decidedly more adult look earlier today, writer/director
Robert Rodriguez
has revealed a surprise addition to the sequel's cast:
Lady Gaga
will be playing a character called La Chameleón. What's more, there's even a teaser image that you can check out below.
"I just finished working with @LadyGaga on @MacheteKills,"
Rodriguez tweeted,
"she kicked SO MUCH ASS! Holy Smokes. Blown away!"
In the sequel, ex-federale Machete (
Danny Trejo
) is recruited by the U.S. government to stop an arms dealer (
Mel Gibson
) from launching a deadly missile.
Michelle Rodriguez
,
Demian Bichir
,
Amber Heard
,
Sofia Vergara
,
Zoe Saldana
and
Charlie Sheen
also star.
Synopsis : The U.S. government recruits Machete to battle his way through Mexico in order to take down an arms dealer who looks to launch a weapon into space.
French Release : 2013-10-02 - US Release : 2013-10-11
Source : ComingSoon.net
No comments.