Filmography from : Cornelia Thaw
Actor :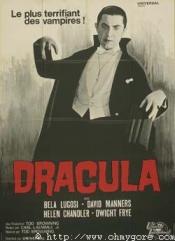 Dracula
,
Tod Browning
,
Karl Freund
(uncredited), 1931
After a harrowing ride through the Carpathian mountains in eastern Europe, Renfield enters castle Dracula to finalize the transferral of Carfax Abbey in London to Count Dracula, who is in actuality a vampire. Renfield is drugged by the eerily hypnotic count, and turned into one of his thralls, protecting him during his sea voyage to London. After sucking the blood and turning the young Lucy Weston into a vampire, Dracula turns his attention to...
Drácula
,
George Melford
,
Enrique Tovar Ávalos
(uncredited), 1931
At midnight on Walpurgis Night, an English clerk, Renfield, arrives at Count Dracula's castle in the Carpathian Mountains. After signing papers to take over a ruined abbey near London, Dracula drives Renfield mad and commands obedience. Renfield escorts the boxed count on a death ship to London. From there, the Count is introduced into the society of his neighbor, Dr. Seward, who runs an asylum. Dracula makes short work of family friend, Lucia...