Filmography from : Daisuke Nishio
Director :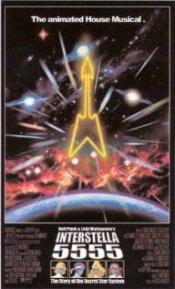 Interstella 5555: The 5tory of the 5ecret 5tar 5ystem
,
Daisuke Nishio
,
Hirotoshi Rissen
,
Leiji Matsumoto
(supervising director),
Kazuhisa Takenouchi
(series director), 2003
A continuation of the story told in the Daft Punk music videos "One More Time," "Aerodynamic," "Digital Love," and "Harder, Better, Faster, Stronger."...
Dragon Ball
,
Minoru Okazaki
(28 episodes, 1995-2001),
Daisuke Nishio
(unknown episodes), 1995
Follows the adventures of an extraordinarily strong young boy named Goku as he searches for the seven dragon balls. These balls, when combined, can grant the owner any one wish he desires. Along the way he makes many new friends, and enemies, and he trains to become the strongest fighter in the world. ...