Filmography from : Edmond O Brien
Actor :
Le voyage fantastique
,
Richard Fleischer
, 1966
...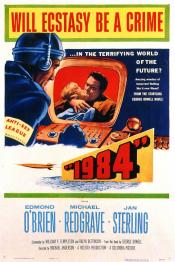 1984
,
Michael Anderson
, 1956
George Orwell's novel of a totalitarian future society in which a man whose daily work is rewriting history tries to rebel by falling in love....
Le Voyage de la peur
,
Ida Lupino
, 1953
Two carefree young travellers make the mistake of their lives when they pick up a mysterious, and slightly psychotic, hitch-hiker who never closes his right eye -- even when he sleeps!...
The Hunchback of Notre Dame
,
William Dieterle
, 1939
In 15th century France, a gypsy girl is framed for murder by the infatuated Chief Justice, and only the deformed bellringer of Notre Dame Cathedral can save her....