Filmography from : Edmund Macdonald
Actor :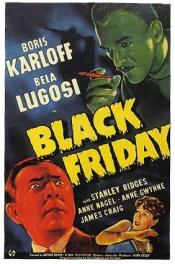 Vendredi 13
,
Arthur Lubin
, 1940
When his friend Professor Kingsley is at deaths door, brain surgeon Dr. Sovac saves his life by means of an illegal operation that transplants part of injured gangster Red Cannon's brain. Unfortunately, the operation has a disastrous Jeckll and Hyde side effect and under certain conditions the persona of Cannon emerges. Sovac soon learns of the duel personality and of half a million dollars the gangster has hidden away. He attempts to find the...
Le retour de l'homme invisible
,
Joe May
, 1940
Geoffrey Radcliffe, the wealthy owner of a coal mining operation, is running out of time. In two hours, he is set to be executed for the murder of his brother, a murder he did not commit. His fiancée, Helen Manson, is frantic. Geoffrey's cousin, Richard Cobb, tells her that he has done everything he can. Geoffrey's only hope is his friend, Dr. Frank Griffin. Griffin's late brother once discovered a secret drug that makes a human being...