Filmography from : Erle C Kenton
Director :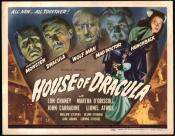 House of Dracula
,
Erle C Kenton
, 1945
Dracula arrives at Dr. Edelman's office asking for a cure to his vampirism. However, this is a ruse by Dracula to get near Dr. Edelman's beautiful female assistant and turn her into a vampire. Meanwhile, a sincere Lawrence Talbot, AKA the Wolfman, arrives seeking a cure for his lycanthropy. When Dr. Edelman's first attempt fails, Talbot tries to commit suicide by jumping off a cliff, but instead finds a network of underground caves where...
House of Frankenstein
,
Erle C Kenton
, 1944
An evil scientist and a hunchback escape from prison and encounter Dracula, the Wolf Man and Frankenstein's Monster. ...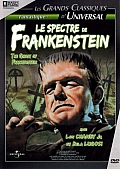 The Ghost of Frankenstein
,
Erle C Kenton
, 1942
The undead Monster and the wily Ygor have survived another mob of angry villagers. Needing help to restore the Monster's strength, Ygor brings his hulking friend to Ludwig Frankenstein, the original doctor's son. Ludwig has built a life and a reputation for himself in another town, far from the stigma and shame that his father and brother brought on the family. Ygor blackmails him. The good Ludwig realizes that the Monster is evil and must be...
Island of Lost Souls
,
Erle C Kenton
, 1932
After his ship goes down, Edward Parker is rescued at sea. Parker gets into a fight with Captain Davies of the Apia and the Captain tosses him overboard while making a delivery to the tiny tropical island of Dr. Moreau. Parker discovers that Moreau has good reason to be so secretive on his lonely island. The doctor is a whip-cracking task master to a growing population of his own gruesome human/animal experiments. He does have one prize result,...