GUARDIANS OF THE GALAXY
INFO
James Gunn on Short List to Direct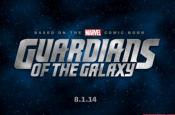 When Marvel Studios announced last month that they were gearing up for a movie starring the space-faring
"GUARDIANS OF THE GALAXY"
, there were lots of fan discussions about who could possibly direct such a venture, a film that woud require action and humor as well as an ability to manage a huge amount of special FX.
Now, according to The Hollywood Reporter, filmmaker
James Gunn
is being mentioned as one of Marvel's top choices to direct the movie, saying that they like his sensibilities and his ability to mix action and horror, something he shares with
"THE AVENGERS"
director
Joss Whedon
(who also wrote and produced the long-delayed
"CABIN IN THE WOODS"
, released a month before the summer blockbuster).
Gunn previously directed the horror comedy
"SLITHER"
and the violent superhero comedy
"SUPER"
, starring
Rainn Wilson
and
Ellen Page
, neither huge box office successes, but before that, he wrote the
"DAWN OF THE DEAD"
remake for
Zack Snyder
and the Warner Bros. live action
"SCOOBY-DOO"
and its sequel.
French Release : 2014-08-13 - US Release : 2014-08-01
Source : comingsoon.net
No comments.