Filmography from : Jack Kruschen
Actor :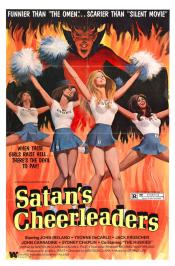 Satan's Cheerleaders
,
Greydon Clark
, 1977
The janitor at a local high school is actually the scout for a coven of Satanists on the lookout for a virgin to sacrifice. One day he kidnaps the cheerleading squad to use for their rituals. However, unbeknownst to the devil-worshipers, one of the cheerleaders is actually a witch, and has plans of her own for the Satanists....
Freebie and the Bean
,
Richard Rush
, 1974
Freebie and Bean, two San Francisco police detectives, have one goal in life: to bring down Red Meyers, a local hijacking boss. After many fruitless months they finally collect an important piece of evidence. However, before they can get an arrest warrant, they hear the news of the hitman being hired to kill Meyers....
Cape Fear
,
J Lee Thompson
, 1962
...