Filmography from : J Lee Thompson
Director :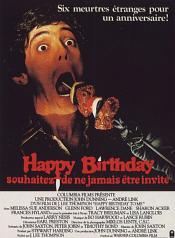 Happy Birthday : Souhaitez de ne jamais être invité
,
J Lee Thompson
, 1981
Virginia is proud that she belongs to a clique. The best students at a private school. But before her 18th birthday, a grueling set of murders take place and her friends are the ones who are falling prey. Could it be her? She suffers from blackouts due to a freak accident one year earlier. We soon learn the truth behind her accident and what is going on... ...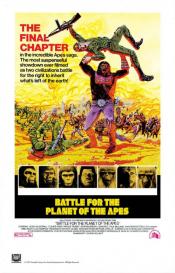 La bataille de la planète des singes
,
J Lee Thompson
, 1973
After conquering the oppressive humans in "Conquest for the Planet of the Apes", Caeser(Roddy McDowal) must now keep the peace amongst the humans and apes. Gorilla General Aldo(Claude Akins) views things differently, and tries to cause an ape civil war. In the meantime, other human survivors learn of the ape city, and decide they want to take back civilization for themselves, thus setting the stage of warring ape factions and humans....
La conquête de la planète des singes
,
J Lee Thompson
, 1972
Fourth feature in the simian series has apes domesticated and turned into work slaves in the near future. Along comes Ceasar, son of Cornelius and Zira who died in the third film, who leads his chimp brothers in rebellion against the human oppressors, thus creating the time loop that leads to the first film....
Les nerfs à vif
,
J Lee Thompson
, 1962
...