Filmography from : Jeff Gillen
Director :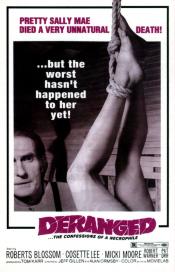 Deranged
,
Jeff Gillen
,
Alan Ormsby
, 1974
A man living in rural Wisconsin takes care of his bed-ridden mother, who is very domineering and teaches him that all women are evil. After she dies he misses her, so a year later he digs her up and takes her home. He learns about taxidermy and begins robbing graves to get materials to patch her up, and inevitably begins looking for fresher sources of materials. Based closely on the true story of Ed Gein....
Actor :
Le mort-vivant
,
Bob Clark
, 1974
A young Soldier is killed in the line of duty in Vietnam. That same night, the soldier returns home, brought back by his Mother's wishes that he "Don't Die"! Upon his Return, Andy sits in his room, refusing to see his friends or family, venturing out only at night. The Vampiric horror is secondary to the terror that comes from the disintegration of a typical American family....
Children Shouldn't Play with Dead Things
,
Bob Clark
(as Benjamin Clark), 1972
Actors led by Alan Ormsby go to graveyard on remote island to act out necromantic ritual. The ritual works, and soon the dead are walking about and chowing down on human flesh....