Filmography from : John Boles
Actor :
6 Hours to Live
,
William Dieterle
, 1932
A murder victim is brought back to life by a scientific experiment. However, the effects only last for six hours, and he must find his killer in that time....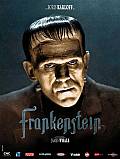 Frankenstein
,
James Whale
, 1931
Dr. Henry Frankenstein (Colin Clive) wants to build a man in his own image, using the body of a dead man. He and his assistent Fritz (Dwight Frye) dig up a freshly burried coffin and steal the body. When they realize the head and the brains of the body are severely damaged, they decide to steal a brain from Dr. Frankensteins former teacher Dr. Waldman (Edward van Sloan). When Fritz accidentely drops the glass jar with the label "good brain" on...