Filmography from : Jon Wright
Director :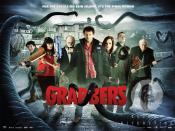 Grabbers
,
Jon Wright
, 2012
Ciarán O'Shea, the handsome though washed up policeman of sleepy Erin Island, has a daily routine consisting mainly of hanging out at the pub with the local drunks and various other charmingly eccentric characters. But his day is about to go horribly wrong. Teamed up with the unwanted help of Lisa – an uptight workaholic policewoman from the Irish mainland – they suddenly find themselves dealing with dead whales, decapitated fishermen...

Tormented
,
Jon Wright
, 2009
Stephen Prentices script is about Darren Mullet, a bullied asthmatic, driven to suicide by his tormented life - ignored by his parents, ridiculed by his teachers and bullied at school. He returns from the dead to pay his teenage tormentors a final visit....
Writer :

Beyond the Rave
,
Matthias Hoene
, 2008
...