Filmography from : Jonathan Glendening
Director :

Strippers vs Werewolves
,
Jonathan Glendening
, 2012
When werewolf chief Jack Ferris is accidentally killed in a strip club the girls who work there have until the next full moon before his bloodthirsty wolfpack seek murderous retribution ...

13 Hrs
,
Jonathan Glendening
, 2010
A full moon hangs in the night sky and lightning streaks across dark storm clouds. Sarah Tyler returns to her troubled family home in the isolated countryside, for a much put-off visit. As the storm rages on, Sarah, her family and friends shore up for the night, cut off from the outside world. But something comes out of the driving rain and darkness. Something that holds a dark secret so devastating that, in one night, it could wipe out the...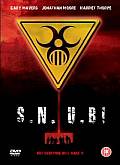 S.N.U.B!
,
Jonathan Glendening
, 2010
A junior minister in the British Government discovers a terrorist plot to detonate a nuclear device in London. Putting self-preservation first, he flees with a young American political advisor to a re-commissioned Secret Nuclear Underground Bunker – S.N.U.B. They find themselves entombed in the bunker with a disparate group of individuals caught in the wrong place at the wrong time. The terrorist bomb is found, but attempts by bomb disposal...