Filmography from : Julian Nest
Actor :
Renaissance
,
Christian Volckman
, 2006
Paris, 2042: a dark Rotoscope world of shadows and right angles. Ilona Tasuiev, a brilliant young scientist, is kidnapped, and her employer, Avalon, a major health and beauty corporation, wants her found. Karas, a jaded police captain, is assigned to find her, fast. He seeks help from her sister, Bislane, and they are soon uncovering identify theft, missing files, and hints that something back in 2006 may explain what's going on. Ilona's mentor,...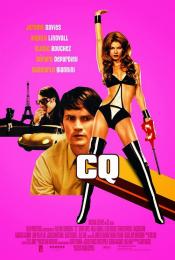 CQ
,
Roman Coppola
, 2001
Paris, 1969. The filming of a sci-fi movie set in the distant year 2000 is in trouble. The director's obsession with the actress who plays the sexy secret agent Dragonfly has clouded his judgment and the film has no ending. A young American, in Paris to document his life on film with total honesty, is brought in to finish the movie with a bang. This proves to be difficult when the line between his fantasy life and reality becomes blurred, and he...