MOTHER'S DAY
"MOTHER'S DAY" - New pictures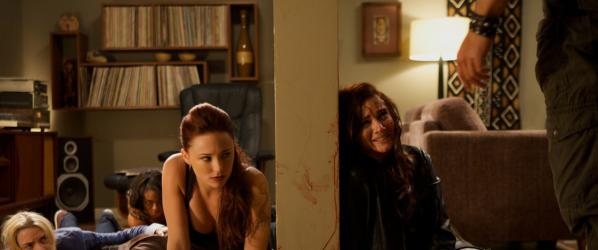 Here's some new stills from the "MOTHER'S DAY" remake now filming in Winnipeg, Canada.
Directed by Darren Lynn Bousman and starring Jaime King, Deborah Ann Woll, Briana Evigan, Alexa Vega, Shawn Ashmore, Matt O'Leary, Lyriq Bent, Lisa Marcos, Patrick Flueger, AJ Cook, J. LaRose and Warren Kole, three brothers on the run from the law head for home, only to discover that their mother lost the house in a foreclosure. Mother ingeniously orchestrates her sons' escape, teaching the house's new owners and their guests a few lessons along the way.

Synopsis : After a bank robbery gone wrong, three brothers head for home, hoping their MOTHER (Rebecca De Mornay) can provide them with a getaway. The youngest brother, JOHNNY (Matt O'Leary), has been shot, and their back-stabbing former partner has gotten away with all the cash.

But when the brothers get home, they find that all their stuff is gone and Mother is nowhere to be found: She lost the house months ago in a foreclosure. The new owners, BETH and DANIEL SOHAPI (Jaime King and Frank Grillo), and their guests, gathered for an ill-timed birthday party, become the brothers' unwitting hostages.

Not long after, Mother arrives, along with the boys' sister LYDIA (Deborah Ann Woll), and it soon becomes clear that Mother will do absolutely anything to protect her children. In one terrifying evening she brilliantly takes control of the situation and masterminds her sons' escape from the law.

Sides will be taken, secrets revealed, and sins punished as the hostages struggle to make it through the night alive.

French Release : 2012-01-17 | US Release : 2010-09-23

Source : Dreadcentral.com / Oh My Gore !