Filmography from : Reginald Le Borg
Director :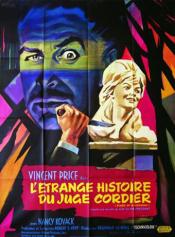 Diary of a Madman
,
Reginald Le Borg
, 1963
Simon Cordier is a well-respected magistrate who visits a condemned prisoner, Louis Girot, just before the man's execution. Girot again pleads his innocence insisting that he has been taken over by a spirit that forced him to commit his crimes. Cordier doesn't believe him and the man suddenly dies. Cordier does however note a rapid change in his personality during their short interview. In the following days, Cordier must face a number of...
Jungle Woman
,
Reginald Le Borg
(as Reginald LeBorg), 1944
Paula the ape woman (Acquanetta) is alive and well, and running around a creepy old sanitarium run by the kindly Dr. Fletcher (J. Carrol Naish), also reverting to her true gorilla form every once in a while to kill somebody....