Filmography from : Ric Garcia
Writer :
Strange But True
,
Rowan Athale
, 2019
...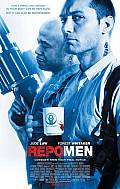 Repo Men
,
Miguel Sapochnik
, 2010
In the futuristic action-thriller Repo Men, humans have extended and improved our lives through highly sophisticated and expensive mechanical organs created by a company called The Union. The dark side of these medical breakthroughs is that if you don't pay your bill, The Union sends its highly skilled repo men to take back its property…with no concern for your comfort or survival. Jude Law plays Remy, one of the best organ repo men in...
Actor :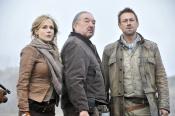 Defiance
,
Michael Nankin
(13 episodes, 2013-2015),
Allan Kroeker
(4 episodes, 2013-2014),
Andy Wolk
(4 episodes, 2013-2014),
Allan Arkush
(4 episodes, 2014-2015),
Larry Shaw
(4 episodes, 2014-2015),
Omar Madha
(2 episodes, 2013),
Scott Stewart
(2 episodes, 2013),
Mairzee Almas
(2 episodes, 2015),
Félix Enríquez Alcalá
(2 episodes, 2015),
Todd Slavkin
(1 episode, 2013),
Thomas Burstyn
(1 episode, 2015), 2015
The series is set in the near future, where aliens known collectively as Votans have come to Earth seeking a new home after their solar system was destroyed. However, when they reached Earth, they discovered despite a prolonged negotiation with the government on Earth, they were not welcome. Rather than turn away, they began a war with the humans as they are determined to make Earth their new home. During the war, the Votans dropped terraformers...