Filmography from : Robert Frazer
Actor :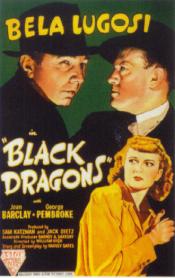 Black Dragons
,
William Nigh
, 1942
Prior to the beginning of World War II, the Nazis, at the request of Japan's Black Dragon Society, sends Doctor Melcher to Japan to transform six Japanese into identical likenesses of six prominent Americans. The Americans are done away with and Melcher, on the orders of High Dragon Yakhamea, is imprisoned so his secret will die with him. In his cell, Melcher switches places with the soon-to-be-released Colomb and, when he is freed, follows the...
White Zombie
,
Victor Halperin
, 1932
A young man turns to a witch doctor to lure the woman he loves away from her fiance, but instead turns her into a zombie slave. ...