Filmography from : William Nigh
Director :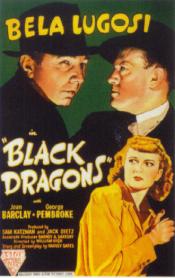 Black Dragons
,
William Nigh
, 1942
Prior to the beginning of World War II, the Nazis, at the request of Japan's Black Dragon Society, sends Doctor Melcher to Japan to transform six Japanese into identical likenesses of six prominent Americans. The Americans are done away with and Melcher, on the orders of High Dragon Yakhamea, is imprisoned so his secret will die with him. In his cell, Melcher switches places with the soon-to-be-released Colomb and, when he is freed, follows the...
The Ape
,
William Nigh
, 1940
Dr. Bernard Adrian is a kindly mad scientist who seeks to cure a young woman's polio. He needs spinal fluid from a human to complete the formula for his experimental serum. Meanwhile, a vicious circus ape has broken out of its cage, and is terrorizing towns people....
The Mysterious Mr. Wong
,
William Nigh
, 1934
Investigating a series of murders in Chinatown, wise-guy reporter Jason Barton is captured by the megalomaniacal Mr. Wong, desperately trying to complete his collection of the twelve gold coins of Confucius, with which he will be able to acquire the power to become ruler of a large province in China....