Filmography from : Rose Plumer
Actor :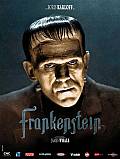 Frankenstein
,
James Whale
, 1931
Dr. Henry Frankenstein (Colin Clive) wants to build a man in his own image, using the body of a dead man. He and his assistent Fritz (Dwight Frye) dig up a freshly burried coffin and steal the body. When they realize the head and the brains of the body are severely damaged, they decide to steal a brain from Dr. Frankensteins former teacher Dr. Waldman (Edward van Sloan). When Fritz accidentely drops the glass jar with the label "good brain" on...
Outside the Law
,
Tod Browning
, 1930
Fingers is planning a half-million-dollar bank robbery in gang boss Cobra Collins' territory. Fingers' moll Connie tries to bluff Cobra into thinking the hit won't be for another week when the call comes through saying it's now....