Filmography from : Roy William Neill
Director :
Frankenstein Meets the Wolf Man
,
Roy William Neill
, 1943
Larry Talbot finds himself in an asylum, recovering from an operation performed by the kindly Dr. Mannering. Inspector Owen finds him there, too, wanting to question him about a recent spate of murders. Talbot escapes and finds Maleva, the old gypsy woman who knows his secret: when the moon is full, he changes to a werewolf. She travels with him to locate the one man who can help him to die - Dr. Frankenstein. The brilliant doctor proves to be...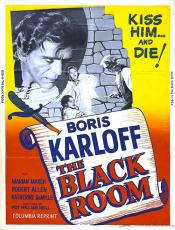 The Black Room
,
Roy William Neill
(as R William Neill), 1935
Ignoring an ancient prophecy, evil brother Gregor seeks to maintain his feudal power on his his Tyrolean estate by murdering and impersonating his benevolent younger twin....
Black Moon
,
Roy William Neill
, 1934
A young girl who lives on a tropical island loses her parents to a voodoo sacrifice, but although she manages to escape the island, a curse is put on her. Years later, as an adult, she feels a strong compulsion to return to the island to confront her past. Her husband, her daughter and her nanny go with her, but once back on the island, the woman finds herself elevated by the locals to the stature of a voodoo goddess, and she begins her...