THE HOLE
"THE HOLE 3D" - Posters and New Casting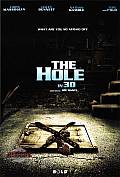 Chris Massoglia (
"CIRQUE DU FREAK"
) and Nathan Gamble (
"THE MIST"
,
"THE DARK KNIGHT"
) will be joining the previously cast Teri Polo, Haley Bennett in Joe Dante's
"THE HOLE 3-D"
, which begins filming in December.
In addition, here's a look at two teaser posters for the film, that are actually combined into one 3-D poster on display at the film market.
The story centers on two brothers who discover a mysterious hole in the basement that leads to their worst nightmares.
Synopsis : A pair of brothers stumble upon a mysterious hole in their basement that leads to the darkest corridors of their fears and nightmares.
Click on thumbnail to enlarge :
Source : Bloody-disgusting.com / Dreadcentral.com
No comments.