Filmography from : Todor Chapkanov
Director :
Asylum
,
Todor Chapkanov
, 2014
An eleven-person riot squad races to an insane asylum to quell a recent inmate outbreak and hostage situation. They arrive, only to be caught off guard by a sudden barrage of insane patients. When they've finally fought off a wave, two of their squad members are missing, their communications return only static, and the doors are locked. They're trapped. They break up into three teams to track down the lost members. Strange sounds and religious...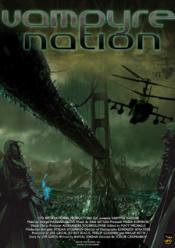 Vampyre Nation
,
Todor Chapkanov
, 2012
Bucharest, Romania. The not-too-distant future, but an entirely different city. The human population is dwindling. The vampire population, meanwhile, is exploding. Having emerged from the shadows a decade earlier, vampires now walk openly amongst the human population, as a precarious peace exists between the two. A peace made possible by the introduction of a synthetic blood substitute, dispensed by the Romanian government, making traditional...
Twister Apocalypse
,
Todor Chapkanov
, 2011
Once the government pulled funding for his project, scientist Marcus Grange (Stacy Keach) seeks revenge by controlling the weather and causing devastation to any that stand in his way. When man controls mother nature, the world must weather the storm! Tune in to director Todor Chapkanov's Storm War on Syfy to watch if two brothers (Jason London and Wes Brown) can stop their father's evil reign from using weather weapons to destroy Washington D.C....