Filmography from : William Cameron Menzies
Director :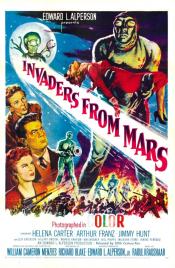 Invaders from Mars
,
William Cameron Menzies
, 1953
A young boy learns that space aliens are taking over the minds of earthlings. ...
Chandu the Magician
,
William Cameron Menzies
(as William C Menzies),
Marcel Varnel
, 1932
Megalomaniac and would-be world dominator Roxor has kidnaped Robert Regent, along with his death ray invention, in hopes of using it to degenerate humanity into mindless brutes, leaving himself as Earth's supreme intelligence. Faced with revealing the machine's secrets or allowing his family to die a horrible death at the hands of Roxor, Regent's only hope lies with the intervention of his brother-in-law, the be-turbaned yogi and magician...