WRONG TURN 3: LEFT FOR DEAD (2009)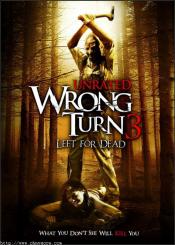 Fonda and her friends go to the woods for a couple of days. Her friends are killed by the wild, now staple mutant killer, Three Finger, who of course cannibalizes them. She is left to fend for herself, but not for long. Meanwhile some dangerous prisoners are being transferred by Nate Wilson, a prison warden, on his last day before leaving to become a lawyer. During transport their truck is attacked by Three Finger and the prisoners escape. While being chased through the woods, the prisoners come across an abandoned truck filled with bags of money. One-by-one Three Finger kills all the prisoners and everyone who searches for them ...
Original Title : WRONG TURN 3: LEFT FOR DEAD
Director(s) :
Declan O'Brien
Writer(s) : Connor James Delaney (written by),  , Alan B McElroy (characters) (as Alan McElroy)
Genre(s) : Horror
Length : 92 min
Year : 2009
Country : USA | Germany
Langage : English
Coulor : Color
Ratio : 178 : 1
French Release : 2010-10-27
US Release : 2009-10-20
Aka(s) :
(original title) - Wrong Turn 3: Left for Dead
Argentina - Camino hacia el terror 3: Abandonado para morir
Bulgaria (Bulgarian title) - Погрешен завой 3: Бягство до смърт
Brazil - Floresta do Mal - Caminho da Morte
Czech Republic - Pach krve 3
Spain (alternative spelling) - Camino sangriento 3: Km. 666 III
Spain - Km. 666 III: Camino sangriento 3
France - Détour mortel 3
Greece (transliterated ISO-LATIN-1 title) - Lathos strofi 3: Left for Dead
Croatia - Pogrešno skretanje 3
Hungary - Halálos kitérő 3.
Italy - Wrong Turn 3 - Svolta mortale
Lithuania - Lemtingas posukis 3: palikti mirciai
Mexico - Camino hacia el terror 3: Abandonado para morir
Poland - Droga bez powrotu 3
Portugal - Escolha Perigosa 3
Serbia - Pogrešno skretanje 3 - Levo od smrti
Russia - Поворот не туда 3
Turkey (Turkish title) - Korku Kapani 3: Ölüme Terkedis
USA (working title) - Wrong Turn 3
Actors :
Cast 
Tom Frederic Nate
Janet Montgomery Alex
Gil Kolirin Floyd
Christian Contreras Willy
Jake Curran Crawford
Tom McKay Brandon
Charles Venn Walter (as Chucky Venn)
Tamer Hassan Chavez
Jack Gordon Trey
Louise Cliffe Sophie
Charley Speed Brent
Borislav Petrov Three Toes
Borislav Iliev Three Finger
Mike Straub Preslow
Bill Moody Sheriff Carver
Emma Clifford Deputy Ally Lane
Mac McDonald Warden Ladew
Todd Jensen US Marshal
Vlado Mihailov US Marshal Davis (as Vlado Mihaylov)
Tzvetislav Samardjiev Policeman in Changing Room (uncredited)
Petko Zhivkov Prisoner (uncredited)
No comments.
All informations are coming from http://www.imdb.com
This page has been seen 14394 times.