WRONG TURN 3: LEFT FOR DEAD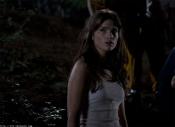 "DETOUR MORTEL 3" First Image From Fox's "WRONG TURN 3"
By on 30-09-2008
Here's a new pic from Fox Home Video's "WRONG TURN 3", which features star Janet Montgomery. Fonda and her friends go to the woods for a couple of days. Her friends are killed by the wild, now staple mutant killer, Three Finger, who of course cannibalizes them. She is left to fend for herself, but not for long. Meanwhile some dangerous prisoners are being transferred by Nate Wilson, a...
"DETOUR MORTEL 3" Latest "WRONG TURN 3" Casting News
By on 19-08-2008
Cast listing for Fox Home Entertainment's upcoming DVD sequel "WRONG TURN 3" has been updated. Now starring are Tom Frederic ("THE OXFORD MURDERS"), Janet Montgomery ("THE HILLS RUN RED"), Tamer Hassan, Gil Kolirin, Mike Straub and Chucky Venice ("RETURN TO HOUSE ON HAUNTED HILL"), according to IMDB. Filming is now underway in Sofia, Bulgaria. Fonda and her...
No comments.
This page has been seen 13346 times.