Filmography from : Yuriko Hirooka
Actor :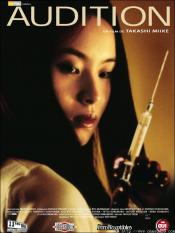 Ôdishon
,
Takashi Miike
, 1999
A lonely Japanese widower whose son is planning to move out of the house soon expresses his sadness to a friend and fellow film producer, who becomes inspired to hold an audition for a non-existent film so that the widower can select a new potential bride from the resulting audition pool. The widower ultimately becomes enamored with and fascinated by one particular young woman...but first impressions can often be horribly wrong......
Sôseiji
,
Shin'ya Tsukamoto
, 1999
Yukio is living a charmed life: he is a respected young doctor with a successful practice and a beautiful wife. His only problem is that his wife is suffering from amnesia, and her past is unknown. Things begin to fall apart, however, when both his parents die suddenly, killed by a mysterious stranger with Yukio's face. Only when Yukio confronts this stranger will the mystery of his identity, and his wife's past, be revealed. ...