Filmography from : Andy On
Actor :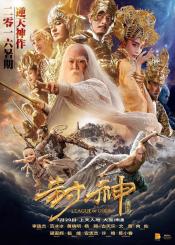 Feng shen chuan qi
,
Koan Hui
, 2016
Based on the 16th-century Chinese novel Feng Shen Yan Yi (The Investiture of the Gods), the story tells of how King Zhou of Shang becomes a tyrant due to the wiles of Daji, a vixen spirit who is disguised as one of his concubines....
Hua bi
,
Gordon Chan
, 2011
On their way to the imperial examinations, scholar Zhu and his servant stop at an ancient temple together with a bandit. Inside, Zhu is enamored by a mural of fairy maidens. When one comes to life, he is transported into the fantastical world of the mural. Within, Zhu is torn between two women: Mudan, the youthful fairy he first encountered, and Shaoyao, the right-hand-woman of the all-powerful Fairy Queen whose magical kingdom is in fact a trap...
Su Qi-er
,
Woo-Ping Yuen
, 2010
Su Qi-Er retired from his life as a renowned Qing dynasty general in order to pursue his dream of a family and his own martial arts school. However, Su's peaceful life is shattered when his vengeful adopted brother, Yuan Lie, kidnaps his son and leaves Su for dead. Saved from his demise by his wife Ying and the reclusive doctor Yu, Su resolves to perfect his technique so that he may defeat Yuan Lie and reunite his family. Aided by the mystical...
San taam
,
Johnnie To
,
Ka-Fai Wai
(as Wai Ka Fai), 2007
...
Black Mask 2: City of Masks
,
Hark Tsui
(as Tsui Hark), 2002
...