AVATAR
Sony Pictures Home Entertainment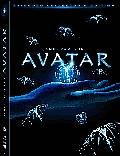 Sound : Anglais DD 5.1, Français DD 5.1
Subtitles : Français, Anglais

Bonus :
- Version cinéma d'origine
- Version Edition Spéciale
- Version longue inédite (16 minutes supplémentaires dont une scène d'ouverture alternative)
- "Filmer Avatar" - Documentaire sur la conception du film, avec la participation de James Cameron, de Jon Landau, des acteurs et de l'équipe technique.
- Scènes coupées inédites - Plus de 45 minutes de scènes coupées totalement inédites

Sony Pictures Home Entertainment


Sound : Anglais DTS 5.1 HD MA, Français DTS 5.1
Subtitles : Français, Anglais

Bonus :
- Version cinéma d'origine
- Version Edition Spéciale
- Version longue inédite (16 minutes supplémentaires dont une scène d'ouverture alternative)
- "Filmer Avatar" - Documentaire sur la conception du film, avec la participation de James Cameron, de Jon Landau, des acteurs et de l'équipe technique.
- Scènes coupées inédites - Plus de 45 minutes de scènes coupées totalement inédites
- Secrets de Production
- Déconstruction des scènes - Fonction permettant de visionner le film à travers 3 stades de production différents
- Coulisses de la production - 17 featurettes explorant la performance-capture, la musique d'AVATAR, la camera Fusion 3D, les cascades et bien plus encore.
- Archives AVATAR - Incluant la première version du scénario, le scénario final de 300 pages et l'encyclopédie Pandorapédia.
- Fonction BD-Live avec des bonus supplémentaires.
20th Century Fox Home Entertainment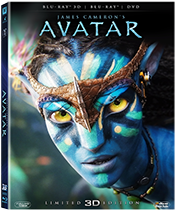 Bonus :

- YOUR COMMENTS -
Be careful, every litigious comments will be deleted.

Big Dad Guy
- /08/03 at 04:29
# 1
What is with this uncredited nonsense? If someone is in the movie, they are in the movie. Did the producers run out of letters?
Leave your comment
This page has been seen 39298 times.