Filmography from : Goo Bi Gc
Actor :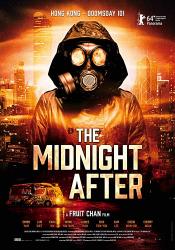 Na yeh ling san, ngoh choh seung liu Wong Gok hoi mong Dai Bou dik hung Van
,
Fruit Chan
, 2014
A night like any other in the streets of Hong Kong: in the midst of the tangle of night-owls, cars and vendors, a group of passengers climb aboard a minibus that is to take them from Mongkok to Tai Po. The group is as diverse as the city: there's a young man on drugs, an arguing couple, a woman with prayer beads and a girl who has just fallen in love, and behind the wheel sits the chatty driver. As the bus emerges from a tunnel, everything is...
Qing dian da sheng
,
Jeffrey Lau
, 2005
Taking place in the younger days of the famous monk, Tripitaka, the film tells a fantastical adventure of the monk and his three disciples. On their way to the city of Shache, the monk narrowly escapes an attack from a group of demons. While trying to think of a way to rescue his disciples, he is captured by the king of reptiles and placed under the vigilance of Meiyan, an ugly demon who falls in love with the monk…...
Tian xia wu shuang
,
Jeffrey Lau
, 2002
In Ming Dynasty China, two pairs of siblings are destined for each other. But fate throws countless obstacles in the path of their happiness. One pair is high-born: the young Emperor and his sister Wushuang, both confined to the Imperial Palace and very much under the thumb of their mother, the Empress Dowager. The other pair is decidedly lowborn: the wanderer Li Yilong (known as King Bully for the way he terrorized the town of Meilong in his...